Configure load balanced gateway
Lightwing supports two kinds of load balanced gateways.
ELB based gateway
Instance based load balanced gateway
Add a new gateway
Navigate to Autostopping on the left menu
Click on Add gateway button
And choose Loadbalanced
Click Next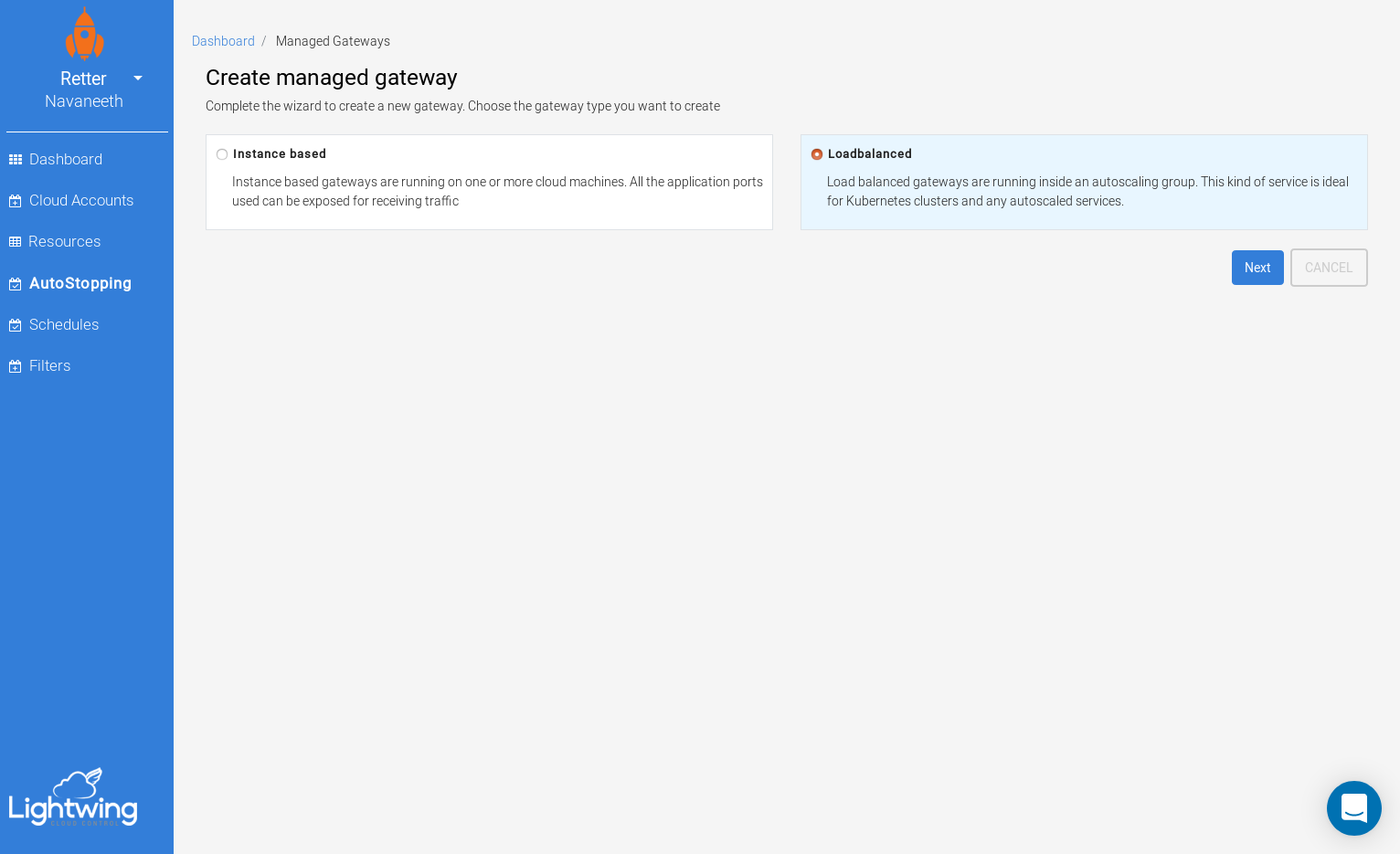 Configure gateway details
Name: Enter a DNS complaint name for the gateway. Name has to be unique among other gateways in the organization
Port: The port in which traffic will be received
Idle time: Idle time in minutes. When lightwing detects no traffic for the idle time, it will stop the instance
ELB based gateway
In a ELB based gateway, lightwing will adjust the autoscaling group's desired capacity when performing idle time optimization. When lightwing detects traffic, it will change the desired capacity to service the traffic.
Choose ELB from Loadbalancer field
Scaling group name: Enter autoscaling group that ELB uses
Desired capacity: Current desired capacity configured at the autoscaling group
Loadbalancer URL: without scheme (http/https)
Click on Save gateway to save the gateway configuration.
Instance based gateway
Instance based gateway configuration can be used when you have one or more instances that are acting as a loadbalancer. These instances will have a load balancer like HAProxy/Nginx installed to handle the traffic.
When configuring instance based load balanced gateway, lightwing will need to select two sets of resources, load balancers and cluster members.
Loadbalancer filter: Filter text to select resources which are loadbalancers. Lightwing will evaluate filter text and forward traffic to the matching instances

Cluster members filter: Filter text used to select the cluster members

Click on Save gateway to save the gateway configuration.